Helping Users to Harness ACEMS Tools
ACEMS R packages and other data science tools can be used by a diversity of people in a myriad of ways, including in research, education, training, within organisations, in hackathons, for innovation, to solve problems, and to design and create new solutions.
To help others use and harness the potential of the Centre's R software packages and other open source tools, ACEMS members also provide a range of enabling services, such as delivering education and practical training, consulting, and creating resources for other creators and users of these tools. These services can help users to:
develop coding and data science skills;
better work with and yield new value from data; and
understand a particular package's relative strengths, limitations, and potential, including in different contexts, subject to resource constraints, and translating prototypes to real world solutions that work at scale. 
Some highlights from ACEMS members work in 2019 with open source software end users are provided below, including in collaboration with the United Nations, to help with monitoring progress towards Sustainable Development Goals (SDGs), and RForwards, to encourage girls to get involved
Case Study: ACEMS-UN Training for Users to Harness Free Tools for SDG monitoring
Satellite image analysis to monitor Sustainable Development Goals Satellite images are a useful data source identified by the United Nations for monitoring sustainable development goals (SDGs) such as forest cover around the world. A key issue with these free images are missing data due to cloud cover, particularly in tropical areas where forest monitoring is most important. There are approaches to fill these gaps such as compositing and kriging methods, however these are not ideal solutions.
Jacinta Holloway's PhD studies have investigated new machine learning approaches and findings about filling missing data gaps in satellite images due to clouds. Read the paper here:https://www.mdpi.com/2072-4292/11/15/1796.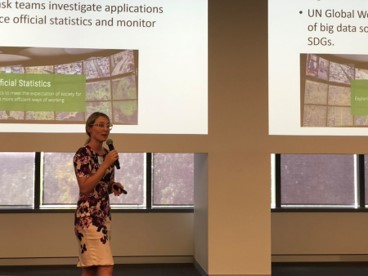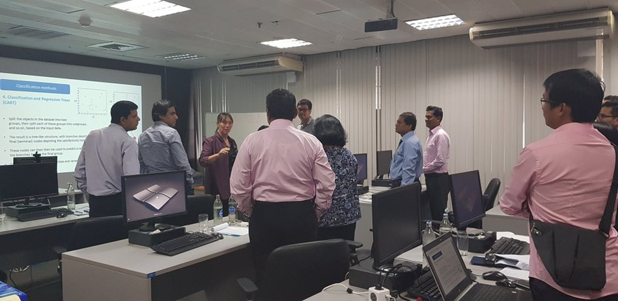 In 2019, Jacinta presented her research at the 2019 World Statistics Congress in Kuala Lumpur in an invited session about Sustainable Development Goals, showing how end users can fill gaps in freely available satellite images to monitor forest cover.  Prior to this, she and ACEMS CI Kerrie Mengersen, have taught a number of workshops to enable representatives from other countries to use a cost-effective tool for SDG monitoring, covering topics including classifying data with classification and regression trees.
The UN satellite imagery task team, which Jacinta and Kerrie have been part of since 2014, requested access to Jacinta's code for simulating clouds and for the methods to share with statistical offices and other users through the online service called the UN Global Platform. Work towards implementing the code in the platform is ongoing, and will help more developing countries and end users to make better use of satellite images to monitor their environments and progress towards Sustainable Development Goals.
---
Case Study: Training High School Girls to Code and Understand Biodiversity
In May 2019, ACEMS collaborated with R Forwards - the R Foundation's taskforce on women and other under-represented groups - to host a free full-day R coding training workshop for Year 11 girls to learn R and then apply their skills to explore biodiversity, using data in the Atlas of Living Australia.  After spending the morning learning to code, the girls were invited to form teams and build a web app to explore local wildlife.  The benefits from such a collaborative event included increasing girls' participation, skills, and practical success in coding, and raising their awareness about biodiversity.
Read about the use, development and new applications for R software at hackathons such as 2019 ROpenSci OzUnconference in the following section.